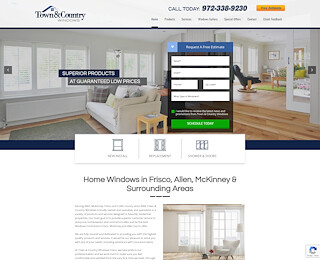 Your home's windows don't just provide a way to see outside, they also protect you and your family from the elements. When windows are old and damaged they become drafty and don't function properly. They may not open and close as they should and they are likely not helping to regulate your home's temperature. New DFW replacement windows are the ideal way to improve the look and functionality of your home.
DFW Replacement Windows
DFW replacement windows are made and installed using high quality materials and workmanship. There are affordable replacement windows to fit every need and price range. New windows will improve the appearance of your home and improve the value. You will also find that replacing your windows will reduce your monthly energy costs.
Old windows don't provide your home with much insulation or protection from the elements. The draft you feel around your windows is costing you money every month. Replacement windows are made of high quality materials that are energy star rated for energy savings.
Windows are made with various features that make them more efficient such as double panes. New windows are often made of vinyl. Vinyl is often preferable to wood because it is more durable and can be made much more efficient. Vinyl windows need very little maintenance and they will last for many years.
Best of all, DFW replacement windows are an affordable way to transform your home and give it a facelift. New windows can be easily installed by a professional and your home will soon have a new appearance and will be more energy efficient.
Choosing Replacement Windows
The first step replacing your windows is to meet with a window specialist. There are many types of windows that may be part of your home. It is usually best to replace all of them so that you maintain a uniform appearance. The window company representative will evaluate your needs and take measurements of the windows in your home that need to be replaced.
Then, you will be able to choose from a variety of options based on your requirements and your budget. It is usually best to purchase the best windows you can afford because they are intended to last for many years. We carry windows from a selection of top manufacturers including Simonton Windows, Atrium Windows and Doors, Ply Gem Windows and Burris Windows,
Once you choose the style, design and features of your DFW replacement windows we order them specifically for your project. Once they arrive, our team of professional installers will carefully remove your old windows and install the replacements. We use the latest techniques and high grade materials to make sure that your windows are secure and efficient.
There is no better time to replace your old or broken windows than now. We offer a large selection of options that are sure to fit your budget. The work will be completed on time and you will soon have a home with windows that are beautifully updated. Contact us today for a free estimate.  
Town & Country Windows
9723389230
4900 Preston Rd 102, Frisco, TX 75034
View Larger Map