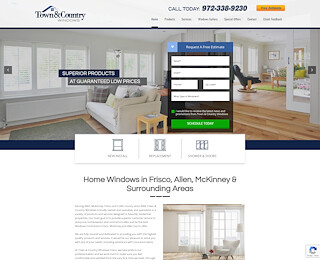 Your windows can show your home's age and make it look old and run down. Old windows are often drafty and they don't operate properly. You are left with windows that you can't open and close and that don't help hold your home's indoor temperature inside. Home replacement windows are the ideal way to improve the look and function of your home and improve its value.
Improve Energy Efficiency
One of the most important reasons to choose home replacement windows is to improve the energy efficiency of your home. Old windows are often drafty and offer very little protection from the elements. This results in high utility bills both in the winter and summer. The best way to resolve the situation and save money is with home replacement windows.
New home replacement windows have energy star ratings that provide you with information about how well they insulate and protect your home. You can reduce your monthly heating and air conditioning bills when you have windows that properly insulate your home from the outdoor temperatures.
We offer a wide range of styles, types and manufacturers so you have the best choices available. You will find windows that will meet your needs and fit your budget. Some of the manufacturers we carry include Simonton Windows, Atrium Windows and Doors, Ply Gem Windows and Burris Windows. We offer you the best quality windows at the most affordable prices.
Tips for Choosing Home Replacement Windows
View window features to get an idea of the types of windows that you prefer. Whenever possible, opt for the most expensive windows that your budget will allow because they will be the most energy efficient and will last the longest length of time. Get help from a professional window installation specialist. A professional will help assess your window needs, take measurements and show you the options that are available.
Consider the energy star rating of the windows to improve the overall efficiency of your home and save on monthly bills. Choose windows that are easy to use and maintain. Vinyl windows are generally considered the standard because they are made of high quality materials and will need little maintenance. Plus, vinyl windows last a long time and you won't need to worry about painting them. Once installed, vinyl windows require very little care to keep them looking and functioning at their best.
It is usually best to replace all of your windows at the same time. This ensures that the home will have a uniform appearance. You can view a selection of sample windows and materials to decide which ones will look best with your home's architecture and style.
Professional window installation will provide you with high quality, long lasting windows that protect your home from the outside weather. The installers will remove your old windows and replace them with new vinyl windows using top quality materials and workmanship. You will immediately enjoy the new look of your home and the better efficiency it provides. Contact us today to schedule a free estimate.  
Town & Country Windows
9723389230
4900 Preston Rd 102, Frisco, TX 75034
View Larger Map