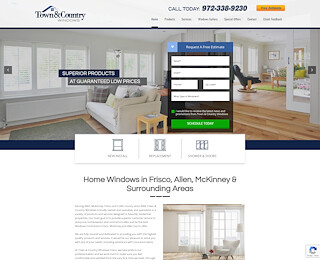 Old windows can make your home look unattractive and are difficult to maintain. Old windows are often drafty and they can cause you to have high energy costs. The solution is to purchase vinyl window replacements. Replacing your windows with new, efficient ones will instantly improve the look of your home and lower your energy bills.
About Vinyl Window Replacement
New windows are made much more efficiently than they were years ago. Today, vinyl window replacement is the common standard. Vinyl is the most effective material for providing you with years of nearly maintenance-free, dependable service. Vinyl is preferable over many other materials including wood. Vinyl is easy to install and care for and provides a strong barrier against the elements.
Vinyl window replacement is the best option for your home. Vinyl windows are available in a wide range of sizes, shapes and designs to fit your specific needs. The first step is to determine the size, style and number of windows that need to be replaced. Generally, windows are made in standard sizes so they can be replaced with the same size without having to make changes to the structure.
A vinyl window replacement specialist will assist you in measuring the windows and will give you some options for replacement. When possible, choose the highest quality replacements you can afford since they will last a long time. New windows will also increase the value of your home.
Benefits of Vinyl Windows
Vinyl windows are made with high quality materials. Unlike wood windows, vinyl windows never need to be painted and will always retain their beautiful appearance. They won't wear away over time and will always provide a strong and sturdy protection of your home from the elements.
You can choose from a variety of features and options that will make your windows perfect for your situation. They are easy to operate and you can generally open them so you can clean them from the inside of the home.
Vinyl windows are star energy rated so you can be sure that they will improve your home's overall effectiveness and reduce your energy costs. Some windows come with double panes to provide even better efficiency and protection from the outdoor temperatures.
New windows are not drafty like old wood windows often are and they are properly secured in place using high quality weather stripping. They will look good and function well for many years to come with very little need for maintenance.
Choosing replacement windows is a decision that can increase the value of your home. New windows will update the look of your home and give it an instant facelift. You will enjoy all of the many benefits of replacement windows at an affordable price. There are many manufacturers that make vinyl windows so there is a large selection of style, features and price to pick from. You can view some of the many options online or talk to our representative to find out more. Contact us today to schedule a free estimate.
Town & Country Windows
9723389230
4900 Preston Rd 102, Frisco, TX 75034
View Larger Map