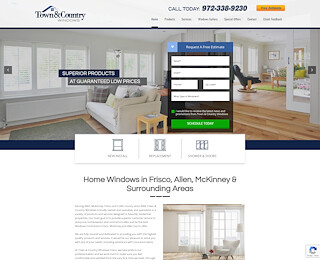 Are your old windows making your home look outdated? Windows not only detract from the appearance of your home, but they also stop functioning correctly. A McKinney window replacement will improve the look and functionality of your windows. There are many reasons to update the windows in your home.
Do We Need McKinney Window Replacement?
If your home has original windows, they are probably difficult to operate and hard to clean. If you notice that you have trouble opening your windows, it may mean that the window mechanism is broken or needs repair. In many cases, old windows cannot be adequately fixed, and therefore, you will end up with some windows that do not open as they should. It is best to replace all of your windows at the same time rather than replace just the broken ones. We offer high-quality McKinney window replacement for all types of windows.
Benefits of Window Replacement
There are several benefits of McKinney window replacement. New windows will improve the look of your home and will increase the value. If you place your home on the market, you will find that new windows will add to the price that you can expect. New windows won't leak, and they are easy to use. You won't need to struggle to get them open or closed. They also have improved locking mechanisms. Also, replacement windows are much more energy efficient than old windows. They have energy ratings that provide you with reduced utility bills since they help keep your home at a constant temperature.
What Are the Most Common Types of Windows?
There are many types of windows including picture, double hung, casement, basement, awning, bow, double slider, end-venting slider, garden, bay, transom, and sidelite, among others. At Town & Country Windows we offer a complete selection of McKinney window replacement options. We provide everything you need from start to finish. We will measure for your windows and offer you the available options. Once the windows are ready, our expert installation team will arrive to replace your windows quickly and efficiently. The process is easy and stress-free.
About Town & Country Windows
At Town & Country Windows we have been providing high-quality replacement windows for more than 15 years. We have a team of experienced professionals who are available to assist you with your project from conception through completion. We offer free estimates so you can learn more about our products without any pressure. Our services include new installations, replacement windows, and shower glass as well as repairs. We take pride in our work, and we are incredibly concerned with customer satisfaction. We strive to meet or exceed your expectations. Our employees are the best in the business. You can count on Town & Country to provide you with the highest quality products and workmanship at reasonable prices. We are ready to help you with all your window installation or replacement needs. Call Town & Country for a free estimate or fill out our online form.
Town & Country Windows
9723389230
4900 Preston Rd
Frisco
TX
75034
View Larger Map